Odin quest
Good news! Our 6th EDT server Revolution of Odin Quest will be released grandly by Youjoy.com at 8:00 July 3, 2013 EDT.
(I would have more info but the attachment they sent me was broken…)
Three kingdoms online
Server Merge Announcement for U41 and U42 happening right now (Jul 2nd~5th)
Like we talked last week, the merge for U41 & U42 is happening right now those lucky server are hopefully in for a lot of action. 
And I want to take sometime to come back on the pool I've started after this merge announcement.
Result from pool (check the thread at koramgame forum) :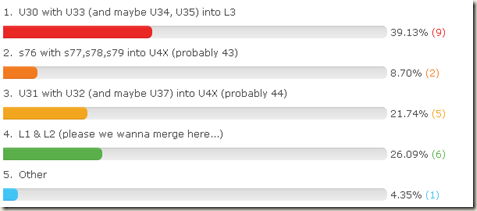 It seem that the community it will be the U30 with U33 since U30 was up at the same time U28/U29 and these two just got their merge (U42 with U26) so it make sense to merge U30 next.
Clash of Kingdoms
The news version is coming with the add-on of emperor heroes. These heroes are like normal heroes that can be recruited in the tavern but they have ability that instead of working in the battle field they affect the output of your manors, they have a ability name Undead God of War that enable that hero to continue fighting even if all is troops are dead but this work only is there is another of your hero on the field that still have troop.
Here the list of all the new hero (click on it for readable image … )
I think is a nice addition to the game, it obvious a way to make players spend gold to get those heroes but I think it will help gold player to maximize their manors and spend their gold