TKO : U43 and U44 merger
The merge for U43 & U44 is ongoing right now, lets hope for a bloodbath 🙂
U43 is U30 and U33 merged together.
U44 is a classic ultimate server created from most of the latest standard server : S76, S77, S78,S79
This actually fit the results of the pool I've started awhile ago, if we look at the result: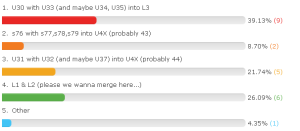 Well actually seem we were right for the U30 and U33.
Click HERE for the forum thread of the merge.
Click HERE for the forum thread of the poll.
Ancient Summoner has launched a werewolf-themed server "S2 Werewolf"
A werewolf-themed server  "S2 Werewolf" was launched this week.
This new server is designed to fit in the time zones for the convenience of European players.
For new players, a newbie gift card is now available (Click HERE to claim). And if you "like" this game on facebook, you'll receive a reward of 50 rubies and a 3 star card with other players when the likes of Ancient Summoner reach a certain number.
Stronix is free starting september 9th
This on I've already wrote about it check it out HERE. Go get it monday it for a limited time only.
 What up !
I was wondering what you guy think I should write about, I'm probably going to write about TKO (merge & trick to manage multiple account) but I need a new game to write about.
I still have some material for PPM Manager and some other game but It seem it's always more fun to write about a new game.
Maybe you would prefer that I go back playing Clash of kingdom or Lord of Ultima and write about the new stuff there. Tell me in the comment what you guy think !!