Kyubo puzzle your bricksmash if you're Dead on Sight
Posted by Jack
Jul 7
Bricksmash
Bricksmash is the typical "brick" game clone, move your paddle and keep the ball from hitting the bottom of the play area. Smash all the bricks with the ball to win. But wait a minute bricksmash  add a twist that unlike the Beatles makes things a bit more complicated. When your ball contacts one of the 16 bricks, a little ball appears in that break and you need to clear the brick inside the brick (that so meta)… Once you clear the brick inside the brick the ball break free in the real world and you have 2 brick to play with.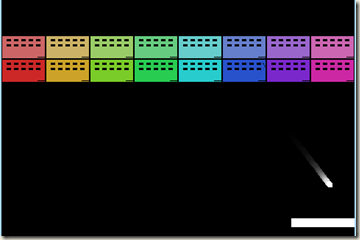 http://www.draknek.org/games/BRICKbricksmashSMASH/
Special
Connect your nes power pad pad on your pc
Even if that not browser, indie or mobile related I had to include it because it so fucking awesome : http://indiegames.com/2013/07/connecting_the_nes_power_pad_t.html
Mobile :
Another Zombies Game : Dead on Sight
I try to not review game that I have to pays and that dev studio don't send code to unlock the game but this one caught my attention because :
1- I love zombie !
2- You are shooting fucking zombies man!
3- Good graphic
Check out the video :
For the complete review : http://toucharcade.com/2013/07/04/dead-on-sight-review/
Kyubo
puzzle (0.99/free)
This game is it a spot for me because it's a indie puzzle game. I won't say more except watch the trailer :
If you want to read a complete review head over here : http://toucharcade.com/2013/07/03/kyubo-review/