Yesterday we saw How to Enhancing & Upgrading and Tuesday we learned how to recycle, today we dig a bit on 2 other addition in the gear enhancement, Refining and Tempering.
Refining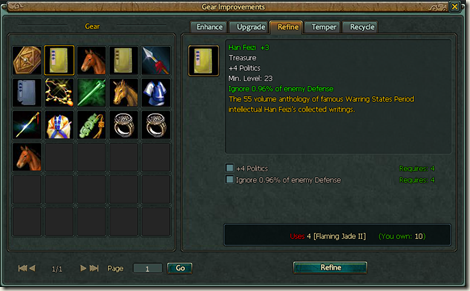 Refining uses flaming jade to replace a stat or bonus of an item with a new random stat or bonus. The player is able to select the gear's stat which will be replaced.
There is no risk to losing the gear using this feature.There is no limit to how many times an item can be refined. Mounts may now have their "Increased marching speed" replaced with a new stat or ability. It's very useful to remove skill you don't for other skill  or to improve mounts as by removing increased marching speed for something else.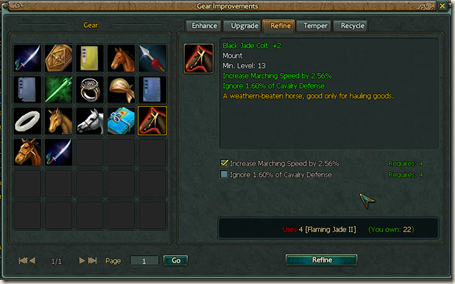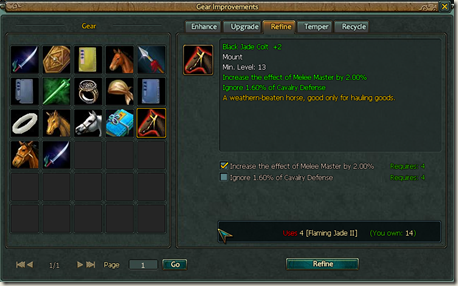 Numbers of required flaming jade
White – 4x lvl 1 flaming jade per attribute change.
Green – 4x lvl 2 flaming jade per attribute change.
Blue – 10x lvl 3 flaming jade per attribute change.
Purple – 13x lvl 4 flaming jade per attribute change.
Tempering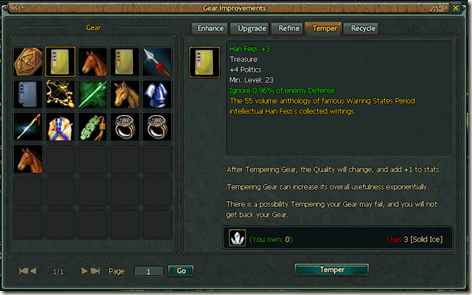 Tempering increase the quality of you gear from crude to common (white to green gear) . However tempering is gamble since gears can be destroyed using this feature!
So, if you do not want to lose a particular gear, do not try to temper it.
I wasn't able to actually try this feature yet because I wasn't able to get any solid ice. From what I've heard  from other player it basically upgrade the color of your gear giving it a additional bonus. For example you can make a green gear become a blue gear therefore it gains an additional stat or bonus.
Thanks to death for is great guide on the new gear feature, really helped me to have more info (specially temper)
Here the link to the forum : http://forum.koramgame.com/thread-50064-1-1.html
If your looking for info on Recycling, enhancing or upgrading check my previous entries: