RPG wrap-up: Heroes of steel counter review while Megami go on a quest in desktop dungeon with all the king men
Posted by Jack
Jan 21
Heroes of steel counter review
We recently made a review of Heroes of Steel, a good indie RPG game on Android, touch arcade made a review on it and seem that they didn't liked it at all. You can check it here : Touch Arcade : Heroes Of Steel Review.
Megami Quest (shimage)
Self-incremental idle game seem to be the thing lately or it just that I recently discovered them. (Gold and Gem & Merry clickmas are actually that type of game)
I patiently waiting for your cash to go up with sometime a bit of intervention is your thing we got another one for you, Megami Quest.
Players start out with just one member in the party, but new members can be randomly recruited via summon if you have enough gold to hire them.
Experience points are awarded automatically and can be incremented at a faster rate through the exploration of enemy-controlled locations. Every time you're done searching an area, at least one new location will be revealed for the party to explore.
Play it here : Megami Quest
Related : Megami Quest (shimage)
Other related Self-incremental idle game : Merry clickmas and Gold and Gem
All the King's Men
All the King's Men is a short game made by Kyle Pulver (Offspring Fling) during a local game jam in Phoenix. It's only available on windows but give it a try it's pretty fun.
Related News: All the King's Men
Desktop Dungeons
I've talked awhile ago about desktop dungeon. You can now catch all the action on steam. Go the the main web site to redeem your steam key if you pre-ordered or just go buy it on steam 🙂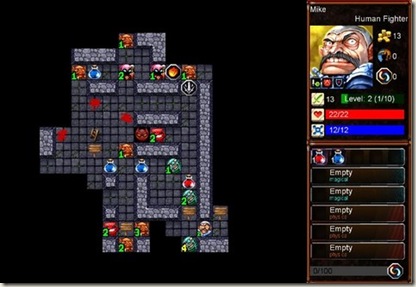 Related News: Release: Desktop Dungeons (QCF Design)