Power playmanager: Line composition
Posted by Jack
Jun 17
I haven't talked about it in my previous post about player but another very important aspect of the game is to make sure that your player play at the best position available and that the coach show them the right tactic.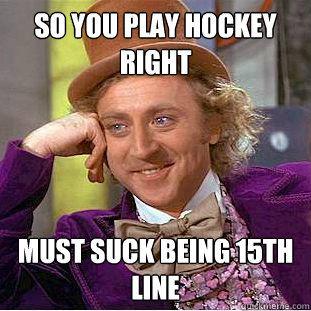 How to make you line composition efficient? The basic way to do it is too simply put the best player on the first line, the good but not good enough for the first line on the second and same thing for the third and fourth line.
You can leave the fourth lines empty if you not planning on using the fourth line.
Note that your player will be more fatigue if they always play 3 line. You can check Sam Hansen post on the subject of using 3 lines instead of 4 at succeed2k.
How to choose the right player for the right position, goaltender have their own unique goaltending attribute so you no1 goaltender should probably be the one with the highest value in goaltending (Duh!), but remember to train technique and passing to make your goaltender a better goaltender overall than one with 500 in goaltending and 10 in passing/technique.
For defenseman, it easy it's their defense skill that important and their passing and technique afterward. For your forward it depend on their position, they all need high offense but center must have a high passing and technique while winger need to have a high aggression and technique. Don't forget to train you player accordingly to and take account the quality of the skill too like we talked in the previous article. A good example of that is a player with the following stat (25(10)pas., 20(50)tec. and 5(88) agr.) is a good center at the time because of his current skill but with time it will become a better winger since he will train much faster in aggression than passing).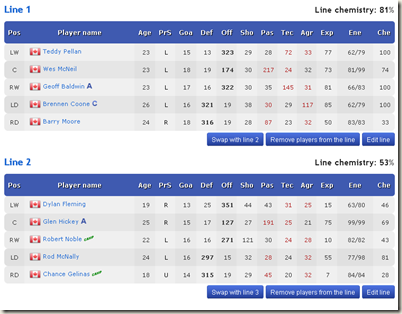 Side note if you have the pro-pack you can create different set of line, one for game you know are easy, one for big games and one for friend game.
I personally tend to keep the same line-up whatever the game but, when you are playing a team you are sure to win maybe it's a good idea to put your rookie and bench some veteran. It will reduce energy lost on your main player and will build chemistry and experience on your youngster.
These are mostly beginners tips, if you want more advance tips on line check out another post by Sam from suceed2k on line
Related :