FTL: Book yourself a rock solid ride with the Rock Cruiser
Posted by Jack
Oct 24
The rock cruiser is probably one of the hardest to get it's achievement. However it's a great ship and it's actually the first ship I managed to beat the game with (in easy mode). Rock plating is pretty useful and the Rockman are pretty good at everything except running. The make the best pilot, they make great fighters due to their high health, they great at repairing stuff and clearing out fire thanks fire immunity.
Layout A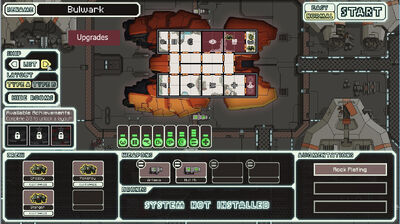 Unlock
See the Rock war vessel encounter.
Alternatively, defeat The Rebel Flagship with the Slug cruiser.
Default name: Bulwark
Starting Crew: 3 Rockmen
Starting Augmentation:
Starting Weapons:
Starting Resources:
Slots: 4 Weapon, 2 Drone (requires system)
The main problem with this ship is that your weapon all use missiles, you will have no problem clearing ship in the initial since your missiles ignore shield, there's rarely any defense drone and they all have low evasion. However your missiles supply will drain like crazy so try to take advantage of the 4 damage hull missile when firing on a empty system. Get a weapon that don't require ammo has soon has possible or crew teleportation can be a good alternative, shoot down there weapon system then teleport to finish the job. This ship is probably the best to achieve the Defense Drones Don't Do D'anything! achievement.
Layout B
Unlock : Earning two of the three Rock Cruiser achievements will unlock Layout B.
Default name: Shivan
Starting Crew: 4 Rockmen
Starting Augmentation:
Starting Weapons:
Starting Resources:
Slots: 4 Weapon, 2 Drone (requires system)
The Shivan (Rock Cruiser Layout B) starts without a door system, requiring 60 scrap to install. It is the only ship which does not have external doors, preventing any sections from being vented to space except via a hull breach. If in advanced edition, Lanius crew can be used to suck air out of rooms, even if they are not in that room, also the Fire Suppression augment works wonders as it helps put out fires.
This ship is a great boarding ship because it's has firebomb and your crew (rockman) are immune to fire, it's make it easy to blast a room then warp in your crew to finish the job in the fire. If your enemies aren't rock man, they will take damage from the fire while you fight them, as well as the system in the room. Systems cannot be repaired if they are on fire, and fires cannot be put out if your crew is there. Medbay should be your first priority, weapon or piloting second depending if they are trying to flee.
The name "Shivan" combined with the color scheme of Layout B is a reference to an alien race of the same name in the game Descent: Freespace.
Layout C
Unlock
Reaching sector 8 with the Rock Cruiser B with Advanced Mode enabled will unlock layout C
Default name: Tektite
Starting Augmentation:
Starting Weapons:
Starting Resources:
Clone Bay
Slots: 4 Weapon, 2 Drone (requires system)
This layout start with great weapon and a Crystal crewmember. The Heavy Crystal and the Swarm missiles will make early sectors quite easy, as the crystal mark ignore level 1 shield and swarm will help you take out any extra shield. You should probably focus on your defense first before trying to get new weapon. The greatest asset of the ship is the crystal crewmember, it will help you unlock the crystal cruiser skipping the need to do 2 extra quest before finding the crystal sector. Crystal man are great at taking care of boarder and boarding other ship with it's lockdown ability preventing enemy crew from leaving the room and other from entering it. I had paired him with a Mantis with great result, even on the final ship. Pairing him with a Lanius can make great synergy too.