Star Wars: Tiny Death Star Trailer and why it's better than Tiny Tower
Posted by Jack
Nov 22
For those late in the news Star Wars Tiny Death Star was released, you can check out the trailer below.
The Emperor asked you, Vader, to build shop and restaurant in the death star to entertain your troop and make money to pay for the main purpose of the death star, bring terror and death through all the galaxy.
You play has Vader the mastermind building the new death star and you must find the delicate balance of building commerce to finance your little project and spending your money of imperial floor to investigate the rebel secret and build your ultimate weapon.
Star wars Tiny Death might seem like a clone of tiny tower set in the star wars universe. Sure there is similarities specially the gameplay that haven't changed much between the two games but I've found some difference and I've decided to put a list of them.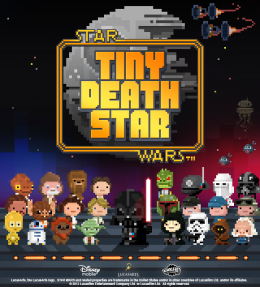 Top 10 majors difference between Tiny death star and Tiny tower that wills make you want to play both
Imperial floor, Mission from Vader with imperial floors (this remove the creative floor from tiny tower)
Emperor mission instead of the mission on tiny tower
Special character can visit you and you can collect them
Special scene: When a special character visit you it may trigger a scene if he visit the right floor
Elevator upgrades multiply your tips, which make it worthwhile to upgrade them compare to the one in the original tiny tower game.
Some characters like to keep secret where they are going
You have to search for rebel and special character in your star instead of searching for bitzen
Its way harder to get extra free bux than in Tiny Tower
You play has freaking Vader
You have hundreds even thousands of Star Wars reference
Honorable mention
Some char won't tell you where they are going only until you move them
New VIPs