Weekly update: Baldur's gate with Rotten tangerine worm while playing some epic sax
Posted by Jack
Apr 8
Baldur's gate
A week ago I wrote that Bladur's gate will be soon available on Ipad and We got more news that it will support multiplayer and should cost less than 10$.
Rotten tangerine (iOS & android)
I came across a really nice indie mobile game, it's called Rotten tangerine, it's available on android and iphone.
The goal is to prevent your tangerine to go bad, by tapping on the rotten one good tangerine will appear. However, sometime monsters appear and they will attack you tangerine to make them rot.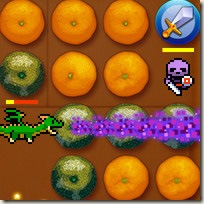 Check out the review at Indiegames.com: http://indiegames.com/2012/03/mobile_game_pick_rotten_tanger.html
Worm is back
I usually don't review pc game but I was surprise that they're a new worm game coming, on pc & console. It's call worm revolution, here the video footage :
It's look good, they used a new graphic engine and added 3d. This one will definitely go on my wish list.
Epic sax game
I don't know what to say about this game, it almost could go in a bad game review but it's too original to do so. From indie game :
"In Epic Sax Game, players attempt to replicate Epic Sax Guy's solo using six keyboard keys. After practicing, you can record a studio version and join a jam session before attempting the toughest challenge of all: a ten-hour YouTube video, performed live."
Well I tried it and let say it music is not my strength but it's definitely fun to try but I won't take my chance on the 10 hours jam … 
You can play it here : http://www.pippinbarr.com/games/epicsaxgame/EpicSaxGame.html