Quick Manor guide
Posted by Jack
Jun 11
Manor guide I got from one of the server I've played:
Silver Manor
"Silver manor" on 4444 or 5555 field
1. make your "resource" only on the 100% bonus (2 each)
2. make 1 Granary 1 warehouse
3. And build only Residence on the other spot (you will have 10 Residence total)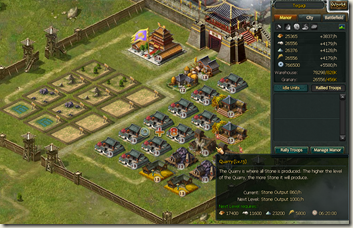 "Silver manor" on 2222 or 3333 field
Like the 4444 field but since you only have 1 +100% bonus field for each resource you build 4 extra empty field for a total of 14 Residence.
I tend to convert those manor into pure silver manor 
Or Pure silver (any field specially on those +20% silver city)
"Pure Silver manor"
(Give you less resources but good that add more silver and don't need carry resource in this town anymore)
4. After all building Lv.15 demolish resource one-by-one to make Residence lv.15 in stead
5. Last will be demolish granary&warehouse and make residence (Use hero with carry wagon to keep resource)
Once done you have only residences for a total of 20.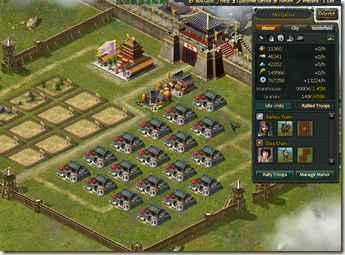 Troop Manors
"Troop Manors" on 4444 or 6666 field
There are two types of troop manors (5x recruiting building Troop Manor) and (9x recruiting building Troop Manor)
5x Troop Manor: 5 of one troop type only (I do those on 6666 manor)
5x troop manor examples:
# 5 Stables – 1 Training ground
# 5 Archery Ranges – 1 Training ground
# 5 Barrack – 1 Training ground
9x troop manor examples: (best on 4444 or 5555)
# 5 Stables – 4 Archery Ranges – 1 Training ground
# 5 Archery Ranges – 4 barracks or siege or whatever – 1 Training ground
I tend to have one 9x troop manor and 1 or 2 5x troop.
I found that 5x work better specially if you made the same mistake I did chose you ultimate soldier both from the same type… (both archer in my case)
If you have ultimate from 2 different type of unit a 9x might be better since you all build like crazy at the same place and use your 6666 manor for extra resources especially if they give a +20% for one resources.
Resources Manors:
on 7777 field
turn you 2 extra spot us the same type of resources you have a bonus or to a resources you need (like if your pumping war elephant you need wood)
note that you can use one of the to spot for a extra ware house like in this picture :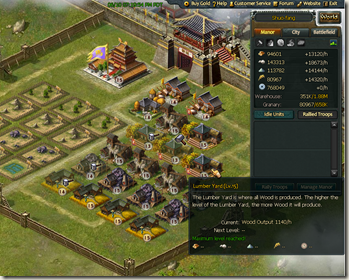 on 6666 field
if you don't turn this in a 5xtroop manor you can use the extra space to benefit from you resources bonus or build the resources you need like I said for the 7777 fields manors.
More guide from Koram Forum:
Guide for new player (basic information on what thing do)
http://forum.koramgame.com/viewthread.php?tid=37814&extra=page%3D1
Beginner guide 1
http://forum.koramgame.com/viewthread.php?tid=32761&extra=page%3D1
Beginner guide 2
http://forum.koramgame.com/viewthread.php?tid=14318&extra=page%3D1
Silver Manor guide
http://forum.koramgame.com/viewthread.php?tid=28477&extra=page%3D1
Optimal guide for having Silver
http://forum.koramgame.com/viewthread.php?tid=28497&extra=page%3D1
General tips from Faith (on koram forum)
http://forum.koramgame.com/viewthread.php?tid=28489&extra=page%3D1