Since I'm not updating a lot these day I'll update you from what I'm receiving from different game makers.

Bubblis updated for social networks and with a 50% discount
– This 29nd of November an update to Bubblis arrives that will allow for the comparison and sharing of results achieved on social networks.
– Arrives with a 50% discount for a limited time only.
– Incorporates an innovative system of tangible prizes.
– Bubblis will soon come to the Amazon Appstore and will also be compatible with Kindle Fire.
 
The 29nd of November an important update arrives for the words and puzzles game Bubblis. With it also comes a 50% discount in the game price, for a limited time only. The primary new feature of this update is integration with the social networks Facebook and Twitter.
With this interaction, users will be able to publish points and successes achieved in the game and can check their position against the rankings globally, in their country, and the scores of their friends. In addition to the comparison, publication and sharing of results, this update also includes an awards system, using  discount vouchers or gift cheques, according to achievements in Bubblis. For example, a 5 Euro voucher for a Starbucks store that the user can redeem directly at the points of sale. Awards will depend upon service availability in each country.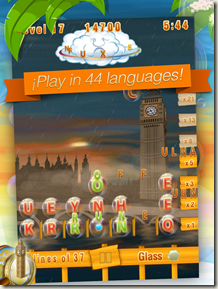 With this update, Bubblis will also come to the online store Amazon, expanding the game's availability to Amazon´s Kindle Fire tablets. Kindle Fire tablets represent almost 55% of the North American market and it is hoped that their  European presence grows as a result of the opening of the Amazon Appstore in Europe.  In the Appstore it is also possible to acquire the game for other Android devices, with the security of buying in a Market with highly exhaustive quality controls.