My dear readers, you all know my love for the rogue like space game FTL. I have to tell you, I've fallen in love with a other roguelike game. This time is a fantasy game free on Android and on PC called Pixel Dungeon.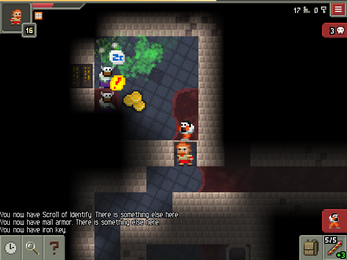 Pixel Dungeon is a traditional roguelike game with pixel-art graphics and a simple interface. This game make me think of a very similar game (almost a clone of) Hack, slash, loot. Hack, slash, loot is a roguelike game like Pixel dungeon, however instead of just one dungeon you have a selection of adventure you can chose from, completing quest and dying will help you unlock characters (10 vs the 4 of pixel dungeon). Hack slash loot was released on steam and now it's a paid app on the play store. 
The game is easy to play but very hard to win, it's so random that it's basically take more luck that skill. However the experience is enjoyable.
You can get a more in-dept review at indieretronews.com.