Pac-Man museum, Twitch play Pac-Man and my top Pac-Man Tribute
Posted by Jack
Mar 14
I wrote awhile ago about how Google incorporated Pac-Man with their logo (their Doodle) for the 30th anniversary of Pac-Man.
I've seen some interesting Pac-man version and project since then so I've decided to write a little something about it.
A Twitch-based experience similar to PokemonPlaysTwitch was created recently only with a Pac-man game re-geared as a massive 2-player game.
Both channels allow viewers to input movement commands. One channel command Pac-man, the other Binky, the Pac-man team eat pills while staying away from blink  and the other channel control Binky to chase Pac-man down and eat him up…
Related : Twitch PacMan
By the way, I'm now on twitch follow me to see my abysmal talent playing Faster than light, Starcraft2 and other game. Specially indies, I'll try to see if I can screen grab the game I write about here and show them on my stream.
My Channel :  http://www.twitch.tv/chrisdejack
Psychopath Pac-Man
Psychopath Pac-Man is made by the same developer who did Strip'em all. You have to arrange the panel to fit where will Pac-Man will go to meet and kiss ms Pac-Man.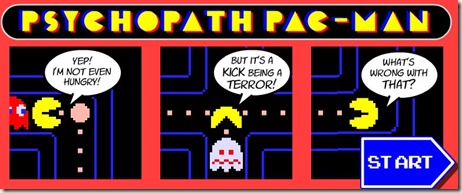 Related:  Browser pick Psychopath Pac-Man
Pac-Man museum
Pac man museum is a collection of many remake Pac-Man had. 9 game total plus a free Ms. Pac-Man download until March 2014.
Here the game included :
Pac-Man Battle Royale (2011)It's available on PS3, Xbox 360 & PC and coming soon on Wii U and 3DSCheck out old classic gamer video review for more information on Pac-ManRelated news: Pac-Man museum: review Ghosts of the past
You can have this full-scale tribute to almost everyone's favorite classic Pac-Man? Spanning over 70 stages and 10 varied worlds, The Pac-Man will have you taking on the familiar task of devouring as many suspicious, orb-like things as possible while avoiding the wrath of the wandering ghost.
Related: The Pac-Man (indiegames)
The Pac-Man tribute project
A Pac-Man where you can learn how the ghost behave, yes they actually have a A.I. and it's actually pretty sophisticated.  That's not all, there is a practice mode where you can see the ghost bait, theirs path and you can rewind. If you are tired of playing always the same level there is a mode to play procedurally generated maps. Pretty hot stuff, so check it out
Check out The Pac-Man Tribute http://pacman.shaunew.com/
FPS Pac-Man
Pac-Man FPS is actually really spooky, you walk through the maze and the ghost seem to just pop in front of you. Definitely a different game, give it a try.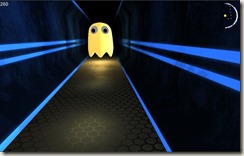 Pac-Man HTML 5 remake
If you just want to play the good old Pac-Man in your browser check this HTML5 Pac-Man Remake.
Play the HTML 5 Pac-Man Remake (free)
More Pac Man
If want we have here is not enough to satisfy your Pac-Man addiction check out these link to find out other Pac-Man games.