Don't be Doomed'n Damned in the Kingdom of Heroes of Sokoban
Posted by Jack
Mar 9
I've tried to get a theme, it about some heroes in medieval time or something…
Heroes of Sokoban
This one really caught my eyes, not because of the graphic because honestly they're almost Atari like. But Heroes of Sokoban is a really interesting puzzle game. You control three thieves and each have theirs own unique skill, is strong has hell and can push stuff around. The other can only pull log and dragon, the last can teleport itself where there a obstacle (log, dragon, gobelin, etc)
Each make the puzzle different because you need to think differently depending on which thief you're playing.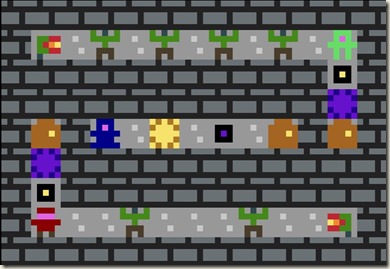 Related News:
Browser Pick: Heroes of Sokoban (indiegames.com)
Play it: Heroes of Sokoban
If you ever played Ghosts'n Goblins and liked it you will definitely love this game, it a 2d plate former.
It's not out yet, but latest review said out in the beginning of 2014.
Related News:
Doomed Damned (indiegames.com)
Official site : http://www.doomedndamned.com/
Kingdom
While the name is not really SEO friendly this game definitely deserve some love. I would define it has a side-scrolling strategy-defense game where you use your coin to build your defense, enlist peasants, give them weapons and tools.
Beware during the night, creep (who seem to be troll more than creep) will attack your peasants, destroy what you built and they will flee with your money. If they touch you, you lose your crown and the game…

I've noticed that the peasants are quite fearless, even sometime stupid, they face the army of troll without retreating even though there a barricade right behind them.
Related news:
Kingdom (Indiegames.com)