Old School – Double Dragon Trilogy
Posted by Jack
Dec 1
After Contrat another 8-bit Nintendo classic is coming to mobile, the Double Dragon Franchise is back with 3 time the fun.
Yes it's back and the package will include three full games: the original Double Dragon, Double Dragon 2: The Revenge, and Double Dragon 3: The Rosetta Stone.
I remember having a lot of fun with this game playing coop with friends. Luckily, there is a coop mode via Bluetooth, you'll be able to grab a friend and help Billy and Jimmy beat the hell out of the turf of the Black Warriors gang again.
Here a Old screenshot from the NES version: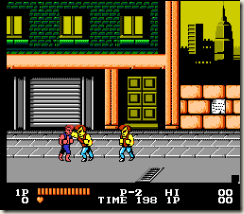 Double Dragon Trilogy is set to release by the end of the year. Meanwhile I can't wait for a remake of Battletoads & Double Dragon
More:
Touch Arcade : Double Dragon trilogy Review.
Bonus:A trailer from the Abysmal spinoff movie "Double Dragon"