Tribal Wars review
Posted by Jack
Aug 31
Today I've decided to review a game that I played about a year ago on server 12 and 13 and started a new game on server 51.
Game description
Tribal war is a slow spaced strategy browser game, where you're the leader of your village and your goal are to grow your village and build troop to attack and take control of other village.
Gameplay
Managing your city
First there is the ?"Sim city" part of this game that is typical to all these game.
You building have a pre-selected place were you can build them and upgrade them.

There no building placement like some other game of the genre have (tko, travain, Lord of ultima)
Another interesting thing is that there only 3 resources instead of 4, food is replaced with a farm which limits the number of troop you can build (like in warcraft or barrack in lord of ultima)
Building your army
All armies are the same for every player, you have the infantry and the mounted troop.
One really nice feature of the game is that depending on your server setting the type of you unit and upgrade you have changed, so be sure to check what your server is about before choosing one.
Unit description

Infantry
Spearman : good vs cavalry, good for harvesting barbarian village, cost more wood, weak attack
Swordman : good vs infantry, slow, small carry load
Axeman : offensive infantry unit, very low on defense
Archer : More balanced vs cavalry and infantry than the sword man and spear man
(available only on some server)
Cavalry Unit
Are more mobile than infantry unit but usually have a high cost vs stats ratio compare to infantry
Scout : Give you intel on your enemies when you attack with them
Light cavalry : offensive cavalry with low defense
Heavy cavalry: mobile defensive cavalry,
Mounter Archer: mobile offence cavalry, strong vs archer (available only on some server)
Paladin

In addition to your main army you can recruit a powerful paladin, the paladin can find item when attacking other village which can increase certain unit attack and defense when fighting the paladin.
Map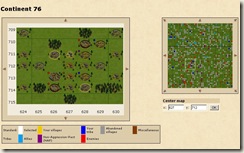 The map system is more efficient that some other game, it let you see who near you, and the right map give you a bigger picture of what around you.
By default the villages are colored by your alliance with them (your tribes/allies/enemies)
With the premium account you get a larger map and you can set specific colors to other players and tribes.
Expanding
While in other game you can either grab someone else city or build a new one in TW there only one way to expand,
It's by grabbing other player or barbarian village with a nobleman.
When attacking with a nobleman, the enemy village slowly lose loyalty (around 20-30%  each attack) and when the loyalty hit 0 the village is your.
The village regains loyalty every hours.
End Game
The server closes to new players when the rim (see rim in the unique section) is filled.
After that any player whipped out is out of the server.
The server end when all other tribe is either removed, merged or whipped out.
The game seen to take awhile before we can see any kind of end game.
I dropped server 12 like 2 year ago and the server is still running.
What make tribal war unique
The RIM
One of the unique feature about TW is that the server start in the middle of the map and
when new players arrive they are placed around that main cluster.
This section around the main cluster is called the rim and
when a player lose all is village he gets a second chance by starting back on the rim which is far from the middle.
Moral
The moral system is a neat protection for new player or player with less point than other
It gets calculated from the points of attacker and defender. A player usually attacks with 100% morale, but if you attack a player that is much smaller than you, you will get a penalty. In an attack with 45% your troops only attack with 45% of they usual attack strength.
If a smaller player attacks a much bigger player, there is no bonus on the attack. The maximum morale is 100%.
It give small player a chance to survive or inflict more damage to biggers players making them think twice before attacking them (or send more nuke :P)
Forum
The main strength of this game compare to other game is it forum.
It's interface is really smooth, it's integrated with the game and it's easy to add in game links like a player, a village coordinate or a tribe.
The tribe forum can be shared with other tribe, which make it easy to communicate with your ally and sisters tribes. A feature that other game don't have.
The Community
The TW community is huge and there a lot of help site that can help you understand the game when you start.
They're the tribal war forum where you can see what is going on with your world (http://forum.tribalwars.net/index.php) They're the TW wiki where you can find a lot of useful information and tactic.
And one of my favorite it the tribal war stats site (http://www.twstats.com/) where you can find all sort of interesting information there. Like the point progression of a certain player, which tribe he was before, an attack planer to plan your attack from different to arrive at a specific time to enemy village. There a map tool to check the size of your new ally or to see which tribes should be scaring you.
That's it for today
In my next post I'll talk about what I hate and love about this game.
And some tips and strategy post are coming to.