Dragon quest IV: Chapter of the Chosen
Posted by Jack
Dec 8
I've completely forgot to write about Dragon Quest VI when It's came out. I've written about Dragon quest VIII  probably the best available dragon quest (and rpg in general) on tablet, we talked about Dragon quest I & II which are both great game and Dragon quest III is on the way (released in japan not elsewere)
The fourth installment of dragon quest, Dragon quest IV: Chapter of the chosen, is very different from other dragon quest in the way the story is structured. You play different chapter to learn about the story of each of your characters until chapter 5, which is basically 80% of the game, where (spoiler alert) you reunite with all of them. Another welcoming addition the introduction of the wagon. Everything else the game is pretty similar to the others except that you can't change classes like in DQ III.
If you don't want to be spoiled, go buy it and play it immediately on itune, Google play, Nintendo DS or on the old school nes. If you don't mind move along.
The first chapter is the shortest Ragnar a fighter who need to investigate the missing children for the king and they go on to find the chosen one.
The second Chapter is about a rebel princess named Alena that want to prove her strength. The third chapter is with Tonerko, a merchant that wants to build is own shop. The fourth chapter is with two sisters, Meena and Maya, that seeking revenge for the death of their father. The final chapter (in the original game) is with the chosen hero who will travel the world to find the characters from the previous chapters and legendary gear to defeat the evil Psaro.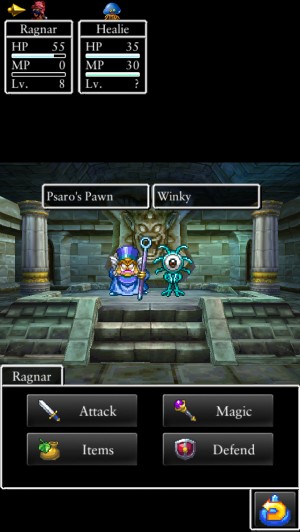 The recent remake of the game include a sixth chapter, where you discover more of the story of Psaro & Rose and who the bad guy really is. You can to be able to have Psaro join you to fight that new bad guy (I don't want to spoil you to much). Note that Psaro is freakingly OP compare to the other characters, only the hero seems to be not so bad compare to him.
Note: since it's an old school RPG, expect a lot of random encounter, if you're playing a recent version they are tuned down a bit but still annoying.
Related news:
Dragon Quest IV (pocketGamer)
Dragon Quest IV: Review (TouchArcade)