FTL: Lanius Cruiser
Posted by Jack
Nov 6
The Lanius cruiser is a ship only available in the advanced edition, it's actually really simple to unlock compare to most ship. You receive it once you unlock 4 ships other than The Kestrel. 
Layout A
Unlock

Unlock 4 ships (Excluding The Kestrel) to unlock this ship.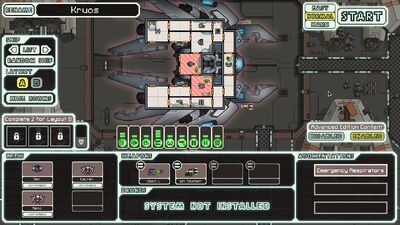 Default name: Kruos
Starting Crew: 1 Human, 2 Lanius
Starting Augmentation:
Starting Weapons:

Chain Burst Laser
Ion Stunner

Starting Resources:
Slots: 4 Weapon, 2 Drone (requires system)
Clone Bay
Hacking
With 2 Lanius crew and one human, you can basically vent all air from the ship except where you human crew is and set yourself for one of the Lanius achievement. The starting weapon are the chain burst laser and the ion stunner, try to fire them together for maximum efficiency. It has hacking too but in the early sector you should use it in case where you know it's going to be a hard fights like against those pesky anti-ship drone with ion.
Getting better weapon and teleportation is key, the starting weapon will have a hard time against ship with more shield. Teleportation is a great had to any ship with a Lanius crew member, with hacking you can hack O2 and then warp your 2 lanius there to finish the job. Hacking will protect the room giving your Lanius enough time to drain all O2 and to destroy the system. After that, since the O2 system is down, each time your lanius will step into a room it's will quickly run out of oxygen making the other crew more vulnerable.
Try to avoid Abandoned sectors as they detract from your major advantage: not needing oxygen, but the blue options can often be worth it.
Layout B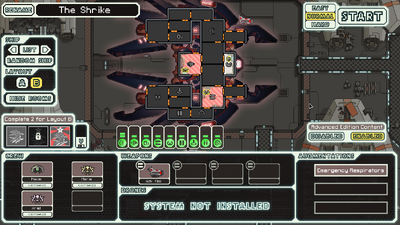 Unlock

Earning two of the three Lanius Cruiser achievements will unlock Layout B.
Its name is a reference the real-life bird known for impaling its prey on thorns, the which is also the namesake of the Lanius themselves.
Default name: The Shrike
Starting Augmentation:
Starting Weapons:

Advanced Flak (special upgraded version, uses 1 less power, has a 2 second cooldown reduction)

Slots: 4 Weapon, 2 Drone (requires system)
Two Man Teleporter
Clone Bay
Mind Control
Your starting crew is similar to the previous layout, 2 Lanius and 1 Engi, the Engi will do the same work the human was doing in the previous layout. However this layout got mind control and a teleport which make it the perfect boarding ship. With mind control you can control an annoying enemy crew and let your Lanius finish the job. Use your advanced flask to clear out weapon or prevent the ship from running by taking out the piloting system. The only problem with that tactic is that after most fight your Lanius will be injured and you don't start in many ways to heal them except waiting a few jumps or letting them die. The Reconstructive Teleportation augment is a must have in that case or get the healing bomb weapon. You can always change the clone bay for a med bay too. Focus on getting 2 Shield Layers early and hire additional crew members to man your other systems. Picking up a cloaking device is also a good Idea. You don't need a lot of weapons to use effectively this ship but to beat the Rebel Flagship you either need bombs and missiles to disable their medbay or enough lasers to pierce their shields and attack the medbay once the medbay is down, and all the crew (except the one manning the laser) is dead Its easy going from there.