Grap this Space chick in a epic Dragon Fantasy
Posted by Jack
Jan 23
Revamped 'Dragon Fantasy'
Originally launched way back in August of 2011, Dragon Fantasy is a 8-bit fantasy "à la" Dragon quest. They recently made a revamp of the game and turn those old school 8-bit graphic into better 16-bit graphic, new audio, achievement and new dungeon.
If this sounds like the type of game you'd like to add to your iOS device of choice, and you enjoy questing in the olde style of 8-bit gaming, you can download it from the App Store for $7.99 / £5.49
Note that a sequel is coming to iOs soon too 🙂
Related : 'Dragon Fantasy' Book I (pocketgamer)
'Dragon Fantasy' revamped (Touch arcade)
Space chick
Have you ever felt the need of going to space and save cuties, well if it's the case Space chick is for you. Space chick is a space (Duh!) game where your heroes jump from planet to planet using their gravity  (like in Angry bird space) and save chick stuck on asteroid and other planet. Beware of monster that will try to knock you off and grab your chick for themselves.
The gravity system makes even this simple platforming technique a lot more interesting. One-tap controls for jumping also make Space Chicks an easily accessible title.
Play it at : Crescent Moon Games
Related: Space chick – One touch of endless platforming
Asslevania
Asslevania: Symphony of the Butt has a bit of not-work safe language and graphic images, but if you're looking for a brutal Castlevania-like, whip-slinging, cross-flinging platformer for free, here you go!
Note that a sequel is coming to where you play has Alucard and you can go through green and blue doors with him.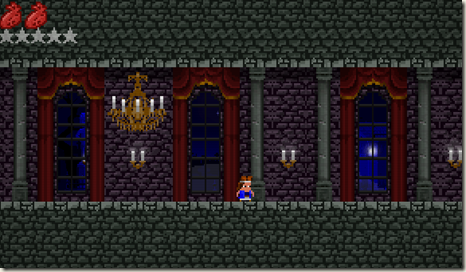 Play it: Asslevania
Related news : Browser Pick Asslevania (indiegames)