Clash of Kingdoms – Ultimate Infantry soldier spotlight. (Part 2)
Posted by Jack
Dec 7
A few day ago I've started a series of article about ultimate soldier, you can read the previous article about the infantry unit or if you are looking the archers unit click here.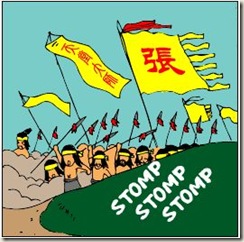 Like we saw in my last article, in terms of pure stats The Hammerfists and Chainmail Guard stands out has being either the best attack infantry unit or the best tank. But guess what they have similar cost structure and have a similar cost structure of most ultimate soldier 2 (call U2/T5 too).
Let break them down for you:
| | | | | | |
| --- | --- | --- | --- | --- | --- |
| NAME | WOOD | STONE | IRON | FOOD | TOTAL |
| The Hammerfists | 1470 | 2350 | 880 | 1170 | 5870 |
| Chainmail Guard | 1780 | 2860 | 1070 | 1430 | 7140 |
| Goliaths | 4730 | 7580 | 2840 | 3790 | 18940 |
Ok let compare the total with the % of resource type use vs the total.
| | | | | | |
| --- | --- | --- | --- | --- | --- |
| NAME | WOOD | STONE | IRON | FOOD | TOTAL |
| The Hammerfists | 25% | 40% | 15% | 20% | 5870 |
| Chainmail Guard | 25% | 40% | 15% | 20% | 7140 |
| Goliaths | 25% | 40% | 15% | 20% | 18940 |
As you can see they have the same cost structure than the U2.  in term of cost they will go well with a U2 with a different cost structure like the war elephant or if you go purely inf and want to do start with u1 and then only do u2 once you got the research or if you use gold and coupon to exchange resources, then the resources distributions doesn't matter



The Hammerfists vs Chainmail Guard
-Same cost structure ( hammer fist cost less overall though)
-Same cost structure like U2
-Chainmail = highest def. & hp.  lowest att + def bonus def vs cav
-Hammer = highest att. for u1 but low def + dmg bonus vs all troop
More of the same thing ?
There are 2 other that have almost the exact same cost and theirs stats are pretty similar too, the halberdian and the Rattan Infantry. The Halberdian have only 1 point of attack than the rattan infantry but have more def (6 point) and is the third best defence in the infantry units. However, what I like with the Rattan infantry is that it has an bonus defense vs archer and more speed (easier to move around) and their cost configuration complement well the cost of u2 (infantry and archer) since it mostly use iron which is what U2 Inf/arche use less.
Halberdian vs Rattan Infantry
-basically the same cost (mostly iron)
-RI better speed
-H good vs cavalry (extra def/att vs cav)
-RI high def vs archer (so better for attacking city)
-RI bonus damage vs infantry
Gimme ur Food punk !
Yellow Turban, Chargers and Broadsword Sentinels have one thing in common, they cost a lot of food compare to the other infantry unit. Out of the 3 the yellow seem to be the best since it has the highest attack and defense. However it skill can be misleading since it receives more damage and deal more damage, so the Broadsword sentinel(BS) might be tankier than them (the BS have higher hp too). Like I explain in my last post, the charger is a glass canon with is high attack but abysmal def (lower than a royal guard the tier 3 infantry). But the have a super high speed with 21 being even faster than some cavalry, it can make it useful for reinforcement. I personally don't like the charger, in the current high archer with high leadership environment we have, they wont be able to land attack if they are not with high leadership hero.
Yellow Turbans vs Chargers vs Broadsword Sentinels
-have all high food cost (= not good)
-YT – 159/85
-YT –  Much higher damage dealt to all troop types in exchange for higher damage suffered.
-C  –  153/42 (less def than royal guard)
– C -Higher Unit Attack when attacking cities. Higher damage dealt to City Walls and Buildings.
-C  -best speed for a infantry unit
-BS – 129/71 – Higher Unit Attack and less damage suffered while defending cities.
Alone in the wood
Cost wise the Roving Gallant is the only unit that cost primarily wood which makes it a good complement to the U2 cavalry since it mostly cost a lot of stone and iron. Its skill reduce its damage dealt and receive, but considering it 52 of def (lower than
Like I said previously, Roving Gallant is probably one of the weakest infantry U1, it sole advantage is that its cost complement well the U2 cavalry (Rabid Horseman).

Roving Gallants
-cost primarily wood
-150 attack/ 52 def
-skill reduce damage but reduce damage receive
-best speed for a inf after the charger
That all for the infantry you can check the pool (and vote) about which infantry unit is the best.
Infantry :