Remember a virus that caused such turmoil in 2009 and ended up being almost nothing…
Somebody got the "brilliant" idea a making a game out of it.
Sometime these "brilliant" ideas should stay where they are, in a cave filled with man eating lizard.
Enter Kill H1n1

The game start with a scene with Michael and is girlfriend Marianne.
Marianne tell Mike to call her later to hangout.
Micheal call her later, her dad answer the phone and tell him she is really sick.
She has the H1N1 !!!!
Micheal go the is lab discover how to make an anti-virus vs the H1N1 (he's a really smart kid)
Now He got the go around the neighborhood and cure everyone before going to Marianne to give her the antidote.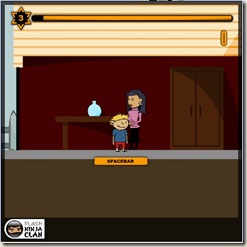 No you pervert, Micheal not staring at her boobs, he's just playing the doctor with her…
The controls are atrociously bad, you walk with the key pad and use the spacebar to give the remedy to them. That not that hard at this point (except for jumping) but when you give the anti-virus to someone, you go in another mode, where you got to move the drop of you miracle blue solution (that how they call it) to unhealthy cell to cure them.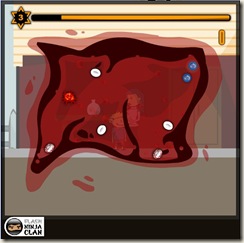 If you think that giant blob is ugly wait until you try the control of playing in that blob…
The control in that mode is a nightmare and to had to that fact (and that playing that mode is really boring) is that if your touch anything else than an unhealthy cell you're done…
I didn't get to the point where I actually succeed the stage I actually got 750 and decided that I wasted enough of my time on this game.
So for those who tried it, how boring did you found it ?